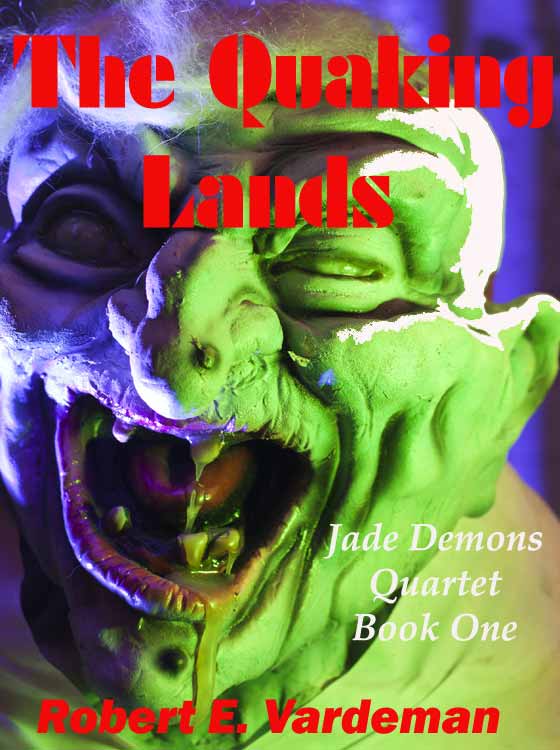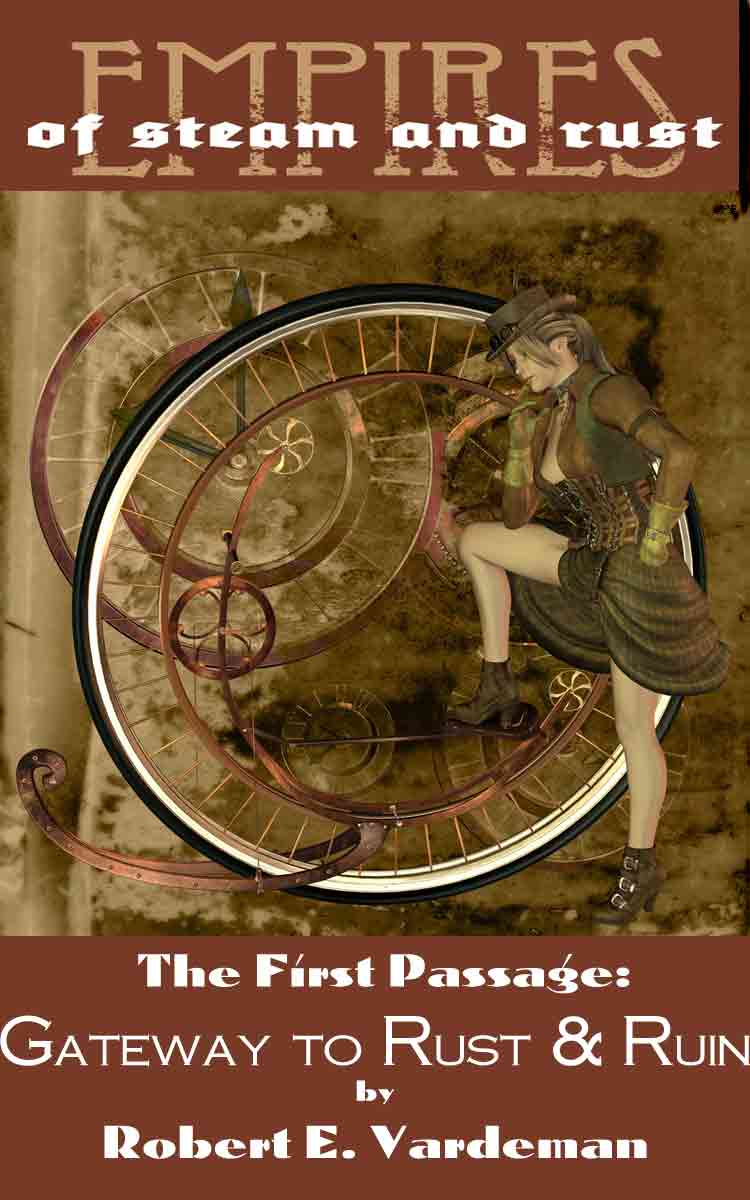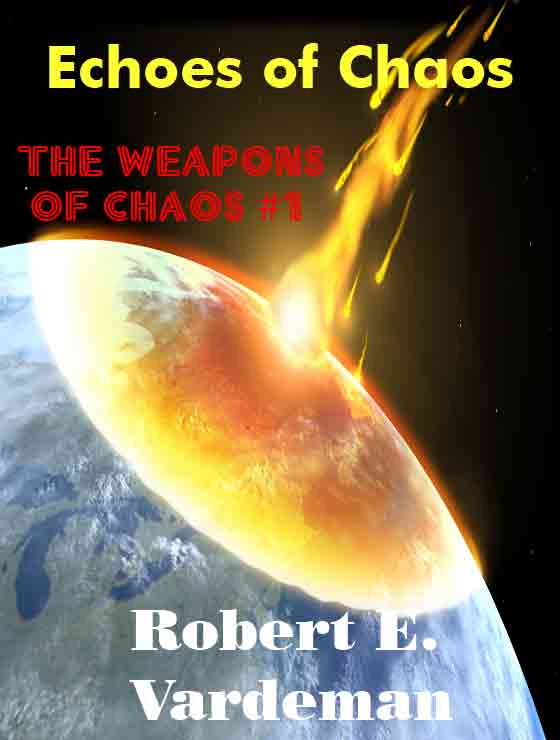 Click on the covers for more infomation
Welcome to the Cenotaph Road website,
Robert E. Vardeman proprietor
Just for Bubonicon. Fantasy, steampunk, sf. Go for it! Then get on down to the convention.
Bubonicon for me started a week ago when I answered a bunch of questions for a reporter from the Weekly Alibi. A good piece, too. She showed some appreciation for science fiction and knowledge of What It's All About when it coms to fans and conventions. And then last night I had dinner with Bubonicon TM Steve Gould and his wife Laura Mixon (both authors of some note), Doug Potter and Al Jackson (who had come to town from faroff Houston on his way to Taos.) Al is retired from NASA and now gives papers at interstellar exploration conferences, of which there seem to be a myriad.
The actual convention begins at 3PM as I write this on August 1. For those of you attending Joan and my presentation on Saturday, go to the left column and click "Bubonicon 46 talk" for a more complete list. All of you reading this are invited to do the same--bonus is at the bottom of that page.
Writing has been entirely proofreading on the final 3 volumes in the Jades Demons Quartet, with an eye toward getting an omnibus volume ready for sale in a couple weeks. Almost done with vol3 so 1.5 books to go? Sounds right.
After Bubonicon will be a flurry of writing. Don Juan and Miguel have notes for me to rewrite the fantay short stories for them. And I need to get a novel for the new western series Blazer! going. I've allocated the time for it before getting back to the sf book (and, alas, taking time to do accounting work to get my business taken care of for another year). This is going to fill the rest of August.
I'm not sure if I will guest host Mike Stackpole's Office Hours in Second Life this coming Wednesday Aug 6. If you are so inclined, come on by and see. I suspect there will much talk about Amazon, authors and how Kindle Unlimited is a bad deal for writers.
Theatrical movies: Lucy. Think of this as a SyFy Channel movie done for French art film houses. Without nudity. A truly horrible movie, from premise to sound track to finale. If using 100% of your brain instead of 10% (bogus!) means turning Scarlett Johanssen into a black blob of goo, I don't want to evolve. A completely different experience is Guardians of the Galaxy. Superb space opera. Who cares why they are doing what they're doing? it's all great fun, space battles, snappy dialogue and really cool characters. Not so hot on the soundtrack, but it fit the story. Don't miss this one.
Follow me on Twitter It's the small things in life... Or at least the 140 character ones.
Blog banter. Summer blahs. Nothing nudging me in that direction.
Empires of Steam and Rust! See David Lee Summers' Revolution of Air and Rust. This is a high-speed, action tale of Pancho Villa and airships. He will be at Bubonicon to sign copies!
My e-books on the catalog page. Great stuff. Really.
iPad viewing: Started a Dee movie on Netflix--about a spirit dragon. Watching when I'm tired is a chore since I want to see the lovely cinematography but get crossed-eyes reading rhs subtitles. Enjoyable.
iPad reading: Guy Kawasaki's APE on marketing books. And Axel Howerton's "999 Problems" -- His characters and Scott Phillips' Boone Butters ought to join up for a caper.
Regular cable stuff: Longmire. Nothing else since I missed Face Off going to see Guardians of the Galaxy. Will catch up after Bubonicon.
Go here for the finest in fantasy, sword & sorcery fiction (and sf and mysteries and...) And in the for-free mode on my store, look in on a story from along the Cenotaph Road. White Fur.
Sample "The Cloud Train" here from the anthology 4 Lives.
Select from The Cenotaph Road Store!
The complete Accursed trilogy!
$9.99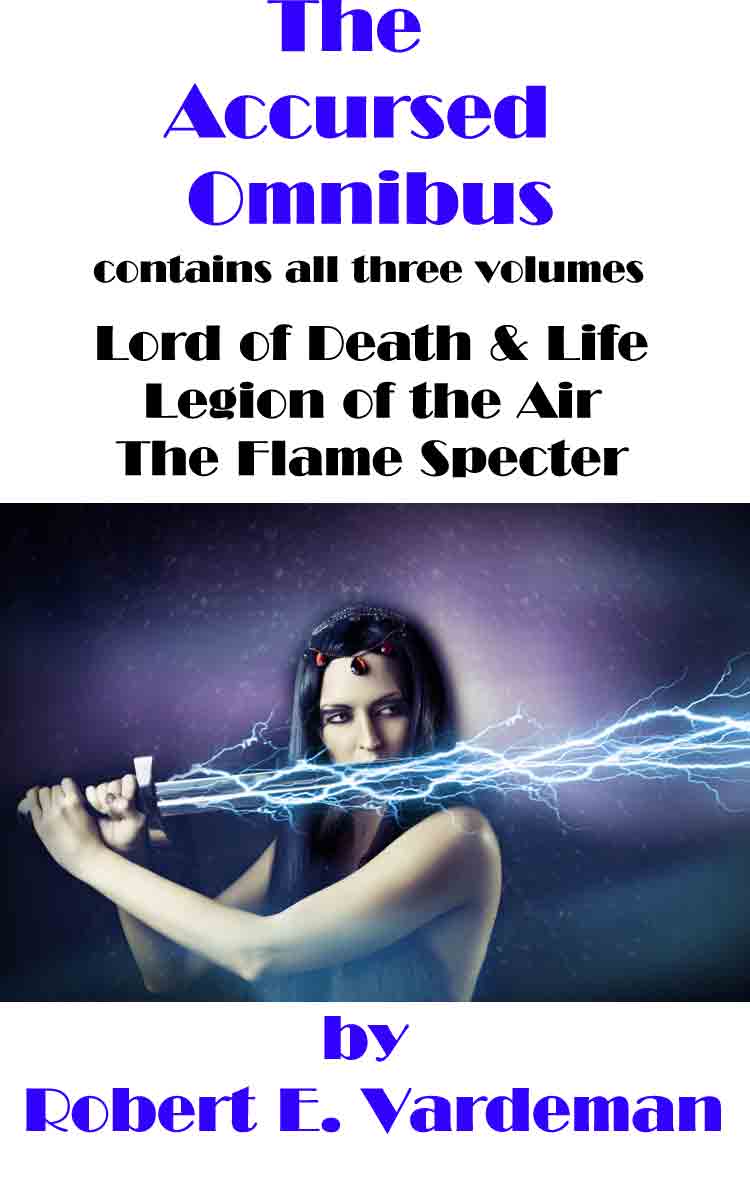 For my other online fiction, check out my CATALOG page or go straight to Amazon for both Kindle and print.
About the site. What follows is a glimpse at the science fiction and fantasy writing I've done, including the Cenotaph Road series, God of War™, Star Trek™ and BattleTech™/ MechWarrior™, Vor:The Maelstrom™, Crimson Skies™, Pathfinder™, Traveller™, what is current, and what might be forthcoming VIPub (Vertically Integrated Publishing) . Be sure to go to the Store link for free fiction and print and e-book publishing. Read ole Karl Lassiter's 2009 NM Book Award nominated novel, Drifter or the 2011 Scribe Award nominated God of War. Don't overlook the 2011 NM Book Award and WF Peacemaker nominee for best novel , Sonora Noose. Or the 2012 nominee for best anthology, Golden Reflections. Or the 2013 nominated China Jack.
Enjoy!

---