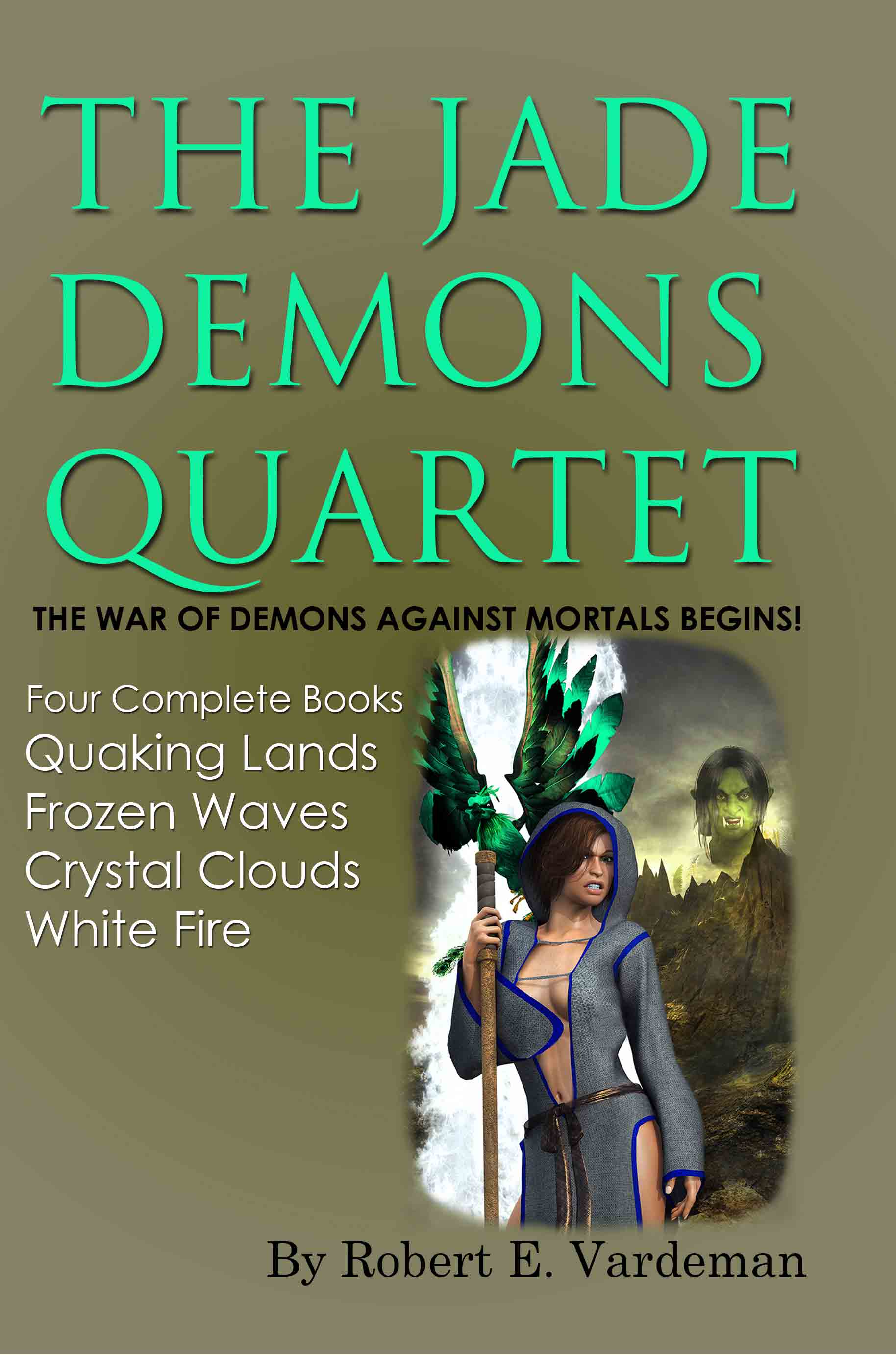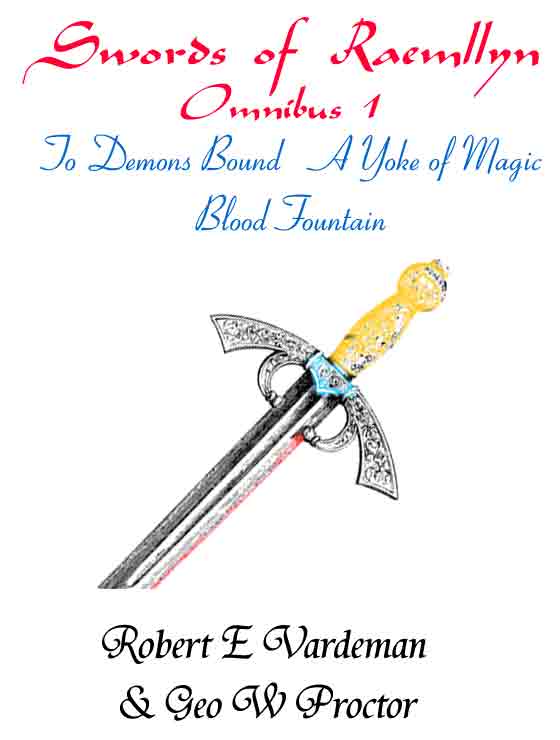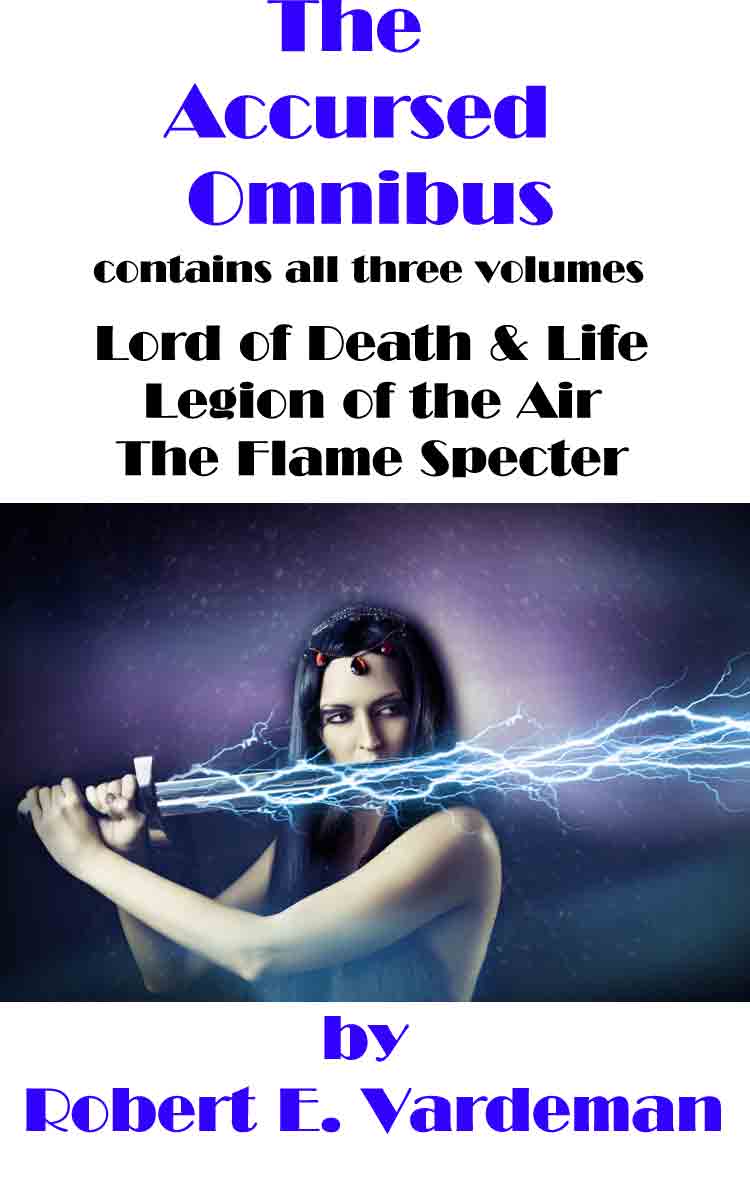 Click on the covers for more infomation
Welcome to the Cenotaph Road website,
Robert E. Vardeman proprietor
A magical collection of titles. Ten in all, in three omnibus volumes. Heroic fantasy as you like it. Snag a copy (or all three!) now!
The short story weird western for Straight Outta Tombstone is nearing completion. The first draft, at least. Odd feeling on this since I am going to use it as an exemplar at a UNM talk later this year. It feels as if someone is looking over my shoulder as I work. Kinda creepy, actually. The story, too.
Judged two high school science fairs. One was good, one outstanding. It renews my flagging faith in education seeing some of the exhibits, thought and work put into the science. I never participated when I was in high school, and don't feel the lack. I am glad to see so many students with a head start (2 presented a project they are doing as interns for the county water authority--it made me feel better about how efficient the water treatment plant is). Kudos to the students of Cleveland HS in Rio Rancho and Amy Biehl HS in downtown Albuquerque. It was a pleasure talking to the students and seeing how they presented their work. I am missing a chance at SYJackson Elem since I'll be in Phoenix then, so next up will be Manzano Day School in April.
Since my Traveller book is no longer available through the usual channels, you can get a print copy (no ebook) from my store for a limited time (until my stock runs out. $15 plus shipping.)
Theatrical movies, Revenant is on the slate for tomorrow. I'm working this in around getting 2 windows repaired (considering the cost of that repair, Revenant might be my last movie in a very long while)
Follow me on Twitter It's the small things in life... Or at least the 140 character ones.
Blog banter. New stuff after a long time about plotting a series arc.
While you are bouncing around, click the mailing list button above in the banner and learn stuff first hand. No regular schedule on the newsletter, so you won't be inundated. Really.
Empires of Steam and Rust! Check out David Lee Summer's ESR novel Revolution of Air and Rust.
My e-books on the catalog page. Great stuff.
iPad viewing: X-files, mostly in the fabulous 3rd season.
iPad reading: Almost finished with Joe Nasisse's Heretic with 2 Lawrence Block books on deck.
Regular cable stuff: Arrow and Flash. The first new X-files was terrible. I have been told the 2nd was better. Lucifer was a retread of, of all things, Castle.
Go here for the finest in fantasy, sword & sorcery fiction (and sf and mysteries and...) And in the for-free mode on my store, look in on a story from along the Cenotaph Road. White Fur.
Sample "The Cloud Train" here from the anthology 4 Lives.
Select from The Cenotaph Road Store!
$1.99!
Eternal punishment...and love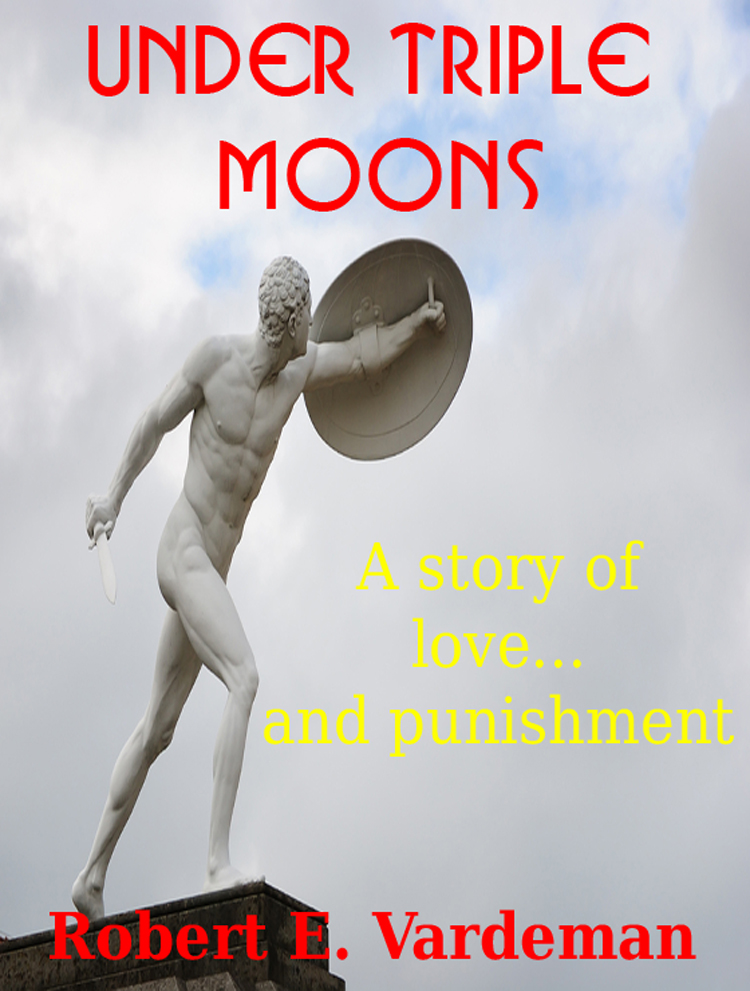 For my other online fiction, check out my CATALOG page or go straight to Amazon for both Kindle and print.
About the site. What follows is a glimpse at the science fiction and fantasy writing I've done, including the Cenotaph Road series, God of War™, Star Trek™ and BattleTech™/ MechWarrior™, Vor:The Maelstrom™, Crimson Skies™, Pathfinder™, Traveller™, what is current, and what might be forthcoming VIPub (Vertically Integrated Publishing) . Be sure to go to the Store link for free fiction and print and e-book publishing. Read ole Karl Lassiter's 2009 NM Book Award nominated novel, Drifter or the 2011 Scribe Award nominated God of War. Don't overlook the 2011 NM Book Award and WF Peacemaker nominee for best novel , Sonora Noose. Or the 2012 nominee for best anthology, Golden Reflections. Or the 2013 nominated China Jack. And 2014 the Fate of the Kinunir.
Enjoy!

---