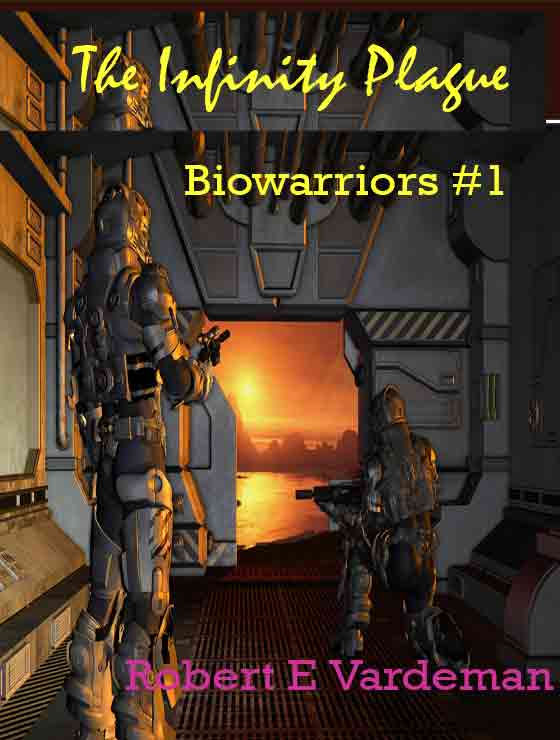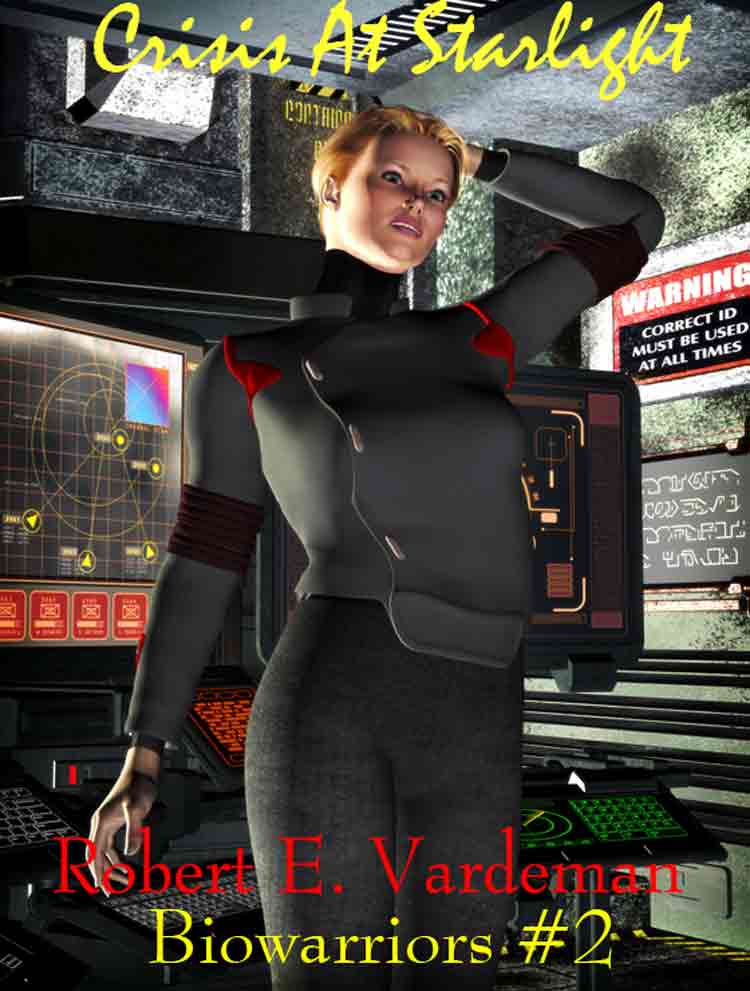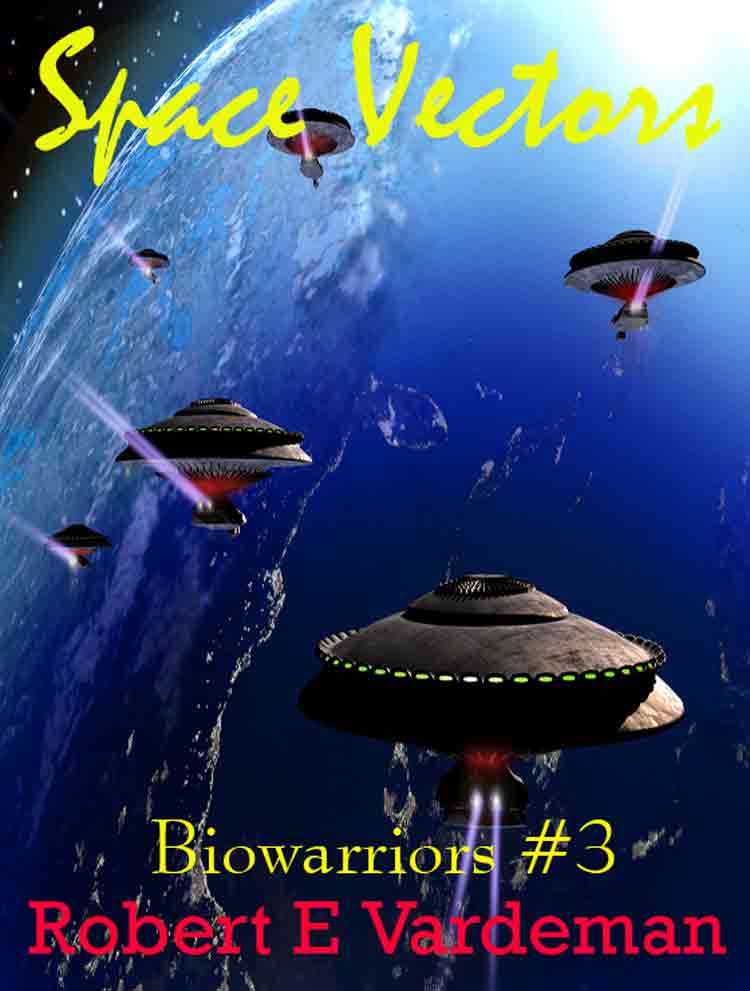 Click on the covers for more infomation
Welcome to the Cenotaph Road website,
Robert E. Vardeman proprietor
Continuing the space opera theme, here are three more. And an exciting announcement next week about yet another trilogy, finally come to completion (after 25 years!).
Weird westerns! Be sure to check out the brand spanking new Tall Tales of the Weird West. This one's hitting the Amazon bestseller list. Don't be the last wrangler at the watering hole to have read it.
Taking the cat to the vet in a few minutes to (fingers crossed) get the satellite dish around his neck removed. It bugs him and every time he tries to head bump me, he comes close to putting out (my) eye. No one ever claimed he was the world's smartest animal, either. he hasn't mastered drinking while wearing the cone. I should have. Drunk heavily, that is.
Interesting lecture this week by one of the 100 chosen by Mars One to essentially strand themselves on Mars and then die there. The plan is grand and epic, the smaller stuff (ie, details necessary to keep you alive at any stage of the venture) are lacking. The guy is a geologist and somehow thinks subsistence farming will allow him vast free time to paint, write and play his guitar. Details like how to get there (who is building the rockets? SpaceX says they've never been approached) and dealing with solar arrays and CO2 and, well everything, are mere details. Best I can tell, this is a scam intended to sell reality TV rights and is taking advantage of those who applied. Not financially but using their time to go forth, spread the dream, and then let the reality show vultures flock in. I see this as using volunteer talent to make a buck. I hope I am wrong, but designing, financing, building and launching a Mars mission in 12 years isn't possible since nothing much has been done to this point.
Finding the places in the space opera where I need to add chapters. Getting sidetracked by another story aimed at an old timey pulp sensibility anthology. Got it sketched out and now to write "The Hideous Blood Ray." The word "hideous" might get changed to something more dramatic <g>
It is still raining here, and is it cold! Snowed up in the canyon yesterday. Not like the Colorado Springs snow but still, it's Mother's Day today. I am rolling the dice and betting summer is near since I'm getting the ac turned on in a week (as I sit typing, the furnace is running).
Theatrical movies, none. It might be time for the Avengers movie. Or a $1 rerun of Kingsman.
Follow me on Twitter It's the small things in life... Or at least the 140 character ones.
Empires of Steam and Rust! Great news. ESR is featured as a scenario in a RPG from Lester Smith. Steve Sullivan did great work getting it ready to go. Check out his ESR novel Heart of Steam and Rust.
My e-books on the catalog page. Great stuff. Really.
iPad viewing: The Wire. Finished the first season. The background shots of Baltimore are like Detroit. I can see why its residents want to burn it down. Also rewatching season 3 of Longmire in prep for the new on Netflix season 4.
iPad reading: Working on student mss. Work, work.
Dead tree reading: Dust of the Damned. A western vampire (kinda) story. This west is filled with all manner of supernatural critters. Very well done and great reading.
Regular cable stuff: Missed a lot this week I need to catch up on. Lost Girl and Arrow. Saw that Forever was cancelled but that Castle was renewed for an 8th season. I think it should have gone out gracefully with Castle and Beckett getting married. The show went downhill after that. So far, Stana Katic hasn't signed. I think she might be smart not to and move on, if the show hasn't already ruined her career by typecasting.
Go here for the finest in fantasy, sword & sorcery fiction (and sf and mysteries and...) And in the for-free mode on my store, look in on a story from along the Cenotaph Road. White Fur.
Sample "The Cloud Train" here from the anthology 4 Lives.
Select from The Cenotaph Road Store!
Star Frontier #1
$13.99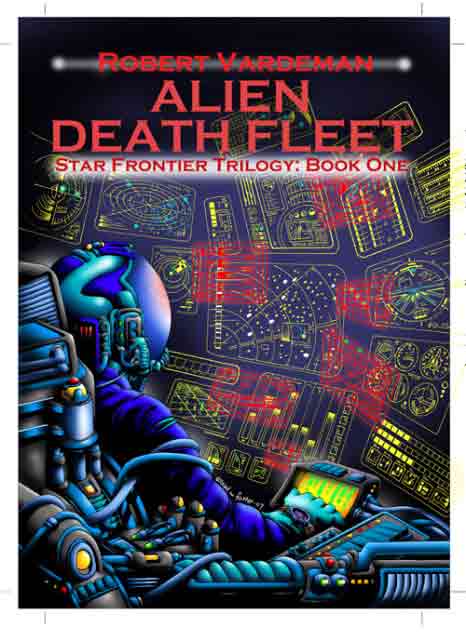 For my other online fiction, check out my CATALOG page or go straight to Amazon for both Kindle and print.
About the site. What follows is a glimpse at the science fiction and fantasy writing I've done, including the Cenotaph Road series, God of War™, Star Trek™ and BattleTech™/ MechWarrior™, Vor:The Maelstrom™, Crimson Skies™, Pathfinder™, Traveller™, what is current, and what might be forthcoming VIPub (Vertically Integrated Publishing) . Be sure to go to the Store link for free fiction and print and e-book publishing. Read ole Karl Lassiter's 2009 NM Book Award nominated novel, Drifter or the 2011 Scribe Award nominated God of War. Don't overlook the 2011 NM Book Award and WF Peacemaker nominee for best novel , Sonora Noose. Or the 2012 nominee for best anthology, Golden Reflections. Or the 2013 nominated China Jack. And 2014 the Fate of the Kinunir.
Enjoy!

---