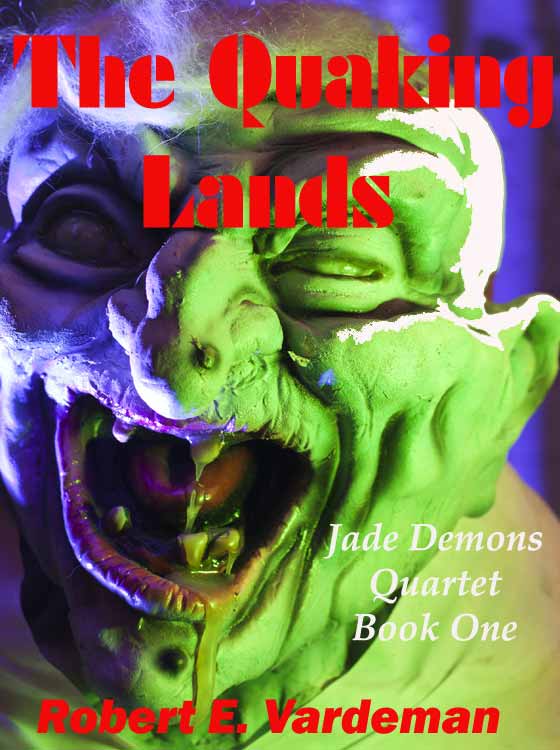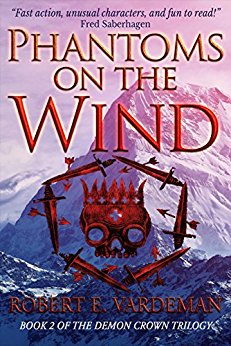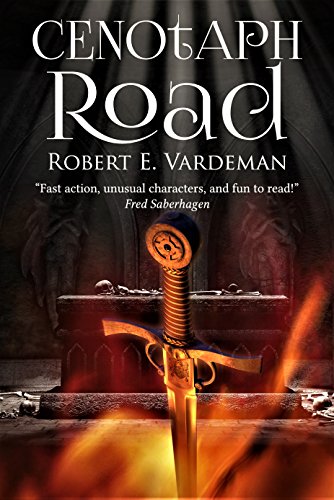 Click on the covers for more infomation
Welcome to the Cenotaph Road website,
Robert E. Vardeman proprietor
Only a couple days left to snag The Quaking Lands for free. Follow the link and put in the code and it's yours. Free! Next up on the hit parade is the second book in the Demon Crown trilogy, just posted. And the final one above is book 1 in the Cenotaph Road series, with CR02 already out and the rest to follow RSN. You gotta try 'em. Good reading, cheaper than a movie.
It's coming soon. Sky Pirates of the Golden West is about ready to launch with some fine fiction and dynamite artwork. Keep watching here for free installments in Millard Fillmore, Steam Master and info about getting future installments and a lot, lot more. The first issue will have installments of Millard Fillmore, Steam Master,and Quest for the Emerald Unicorn, as well as the novellete "Sir Winston and the Bore War," columns and it is all, as they say, beautifully, profusely illustrated by none other than Martin Cameron, designer of the X-wing fighter back in the day and anime fan par excellance. While primarily steampunk oriented, it will have f&sf stories, as well. And maybe in the future some eXBureau stories.
Fingers crossed that 7 Karl Lassiter westerns find ebook deals soon. (They may mysteriously become "Robert E. Vardeman" westerns since the KL name is pretty much retired, unlike the author.)
I am delighted to find that Fantasy Sport Diehards, for which I am on the editorial staff, won the Fantasy Sports Writers Association Best Fantasy Sports Magazine of the year, 2016, award. We beat out such notables as SI, Fox Sports, ESPN and other heavy hitters. This is the 2nd win in 4 years, so Emil Kadlec, Bob Harris and the rest are doing something right. I am happy to be along for the ride.
The autographing at the Arizona Renaissance Fair on Feb 19 was cold, wet and not well attended (only about 10% of the usual crowd. In spite of this Mike Stackpole and I did well selling our wares. I was proud to launch Adventures of Don Juan and Miguel which I wrote (Ann Chamberlain wrote the afterword and Mike did the foreword). Don Juan and Miguel have great shows here and at other Ren Faires. Don't miss them and get them to autograph the book, too!
Theatrical movies: John Wick 2 racked up a body count requiring scientific notation. I enjoyed the movie a lot. And The Great Wall wasn't as awful as I feared. It was an okay movie by Zhang Yimou (of Hero and House of Flying Daggers fame--both are outstanding movies, btw.) This one had flaws and I want to see the director's cut to see if the Chinese version is different (I suspect it is--and better). However, this and other Chinese movies are marking a sea change. It is one of the top grossing movies of the past year and did only moderate US business. The markets have moved East. And other good news, Hayao Miyazaki has come out of retirement.
Follow me on Twitter It's the small things in life... Or at least the 140 character ones.
Blog banter. New stuff after a long time about launching a new magazine.
My e-books on the catalog page. Great stuff.
iPad viewing: Steampunk'd. Like what they do but hate the false drama. And Kato is nice to look at. <g>
iPad reading: Fearful Yellow Eye, a Travis McGee novel, of course, is almost finished.
here for the finest in fantasy, sword & sorcery fiction (and sf and mysteries and...) And in the for-free mode on my store, look in on a story White Fur.
Sample "The Cloud Train" here from the anthology 4 Lives.
Select from The Cenotaph Road Store!
Steampunk !
Pulled into a world of rust and ruin!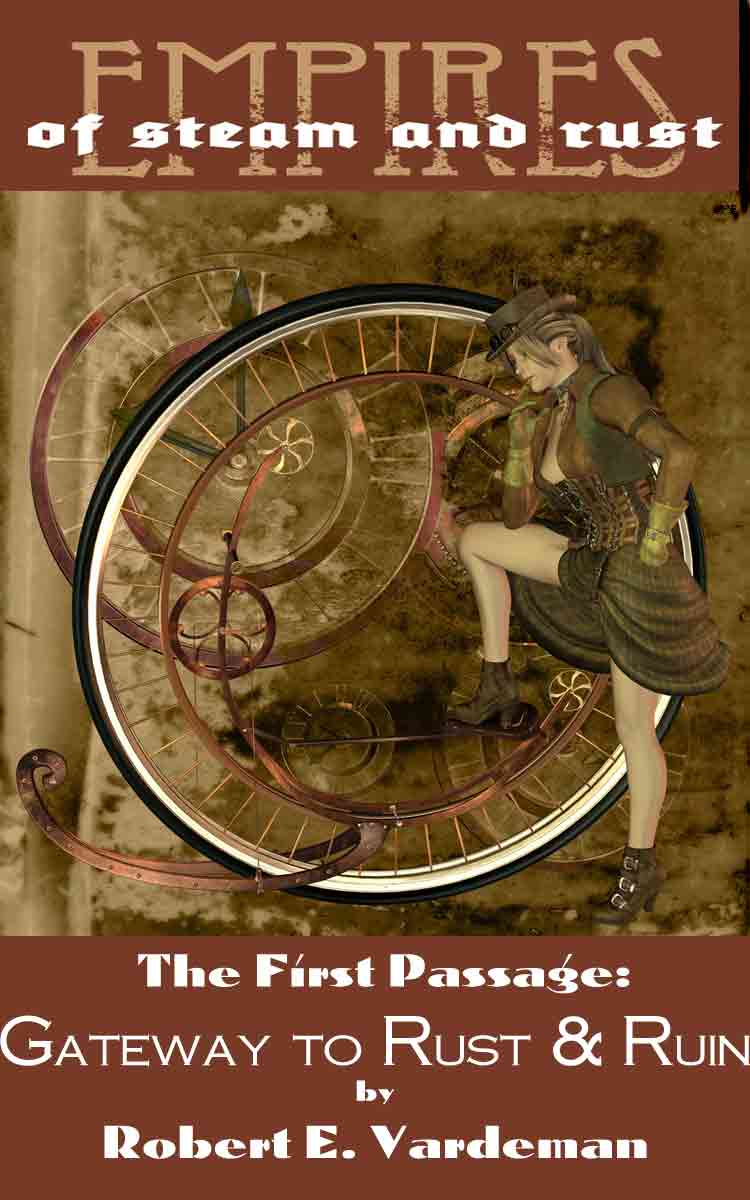 For my other online fiction, check out my CATALOG page or go straight to Amazon for both Kindle and print.
About the site. What follows is a glimpse at the science fiction and fantasy writing I've done, including the Cenotaph Road series, God of War™, Star Trek™ and BattleTech™/ MechWarrior™, Vor:The Maelstrom™, Crimson Skies™, Pathfinder™, Traveller™, what is current, and what might be forthcoming VIPub (Vertically Integrated Publishing) . Be sure to go to the Store link for free fiction and print and e-book publishing. Read ole Karl Lassiter's 2009 NM Book Award nominated novel, Drifter or the 2011 Scribe Award nominated God of War. Don't overlook the 2011 NM Book Award and WF Peacemaker nominee for best novel , Sonora Noose. Or the 2012 nominee for best anthology, Golden Reflections. Or the 2013 nominated China Jack, 2014 the Fate of the Kinunir and 2016 The Burning Man Anomaly.
Enjoy!

---