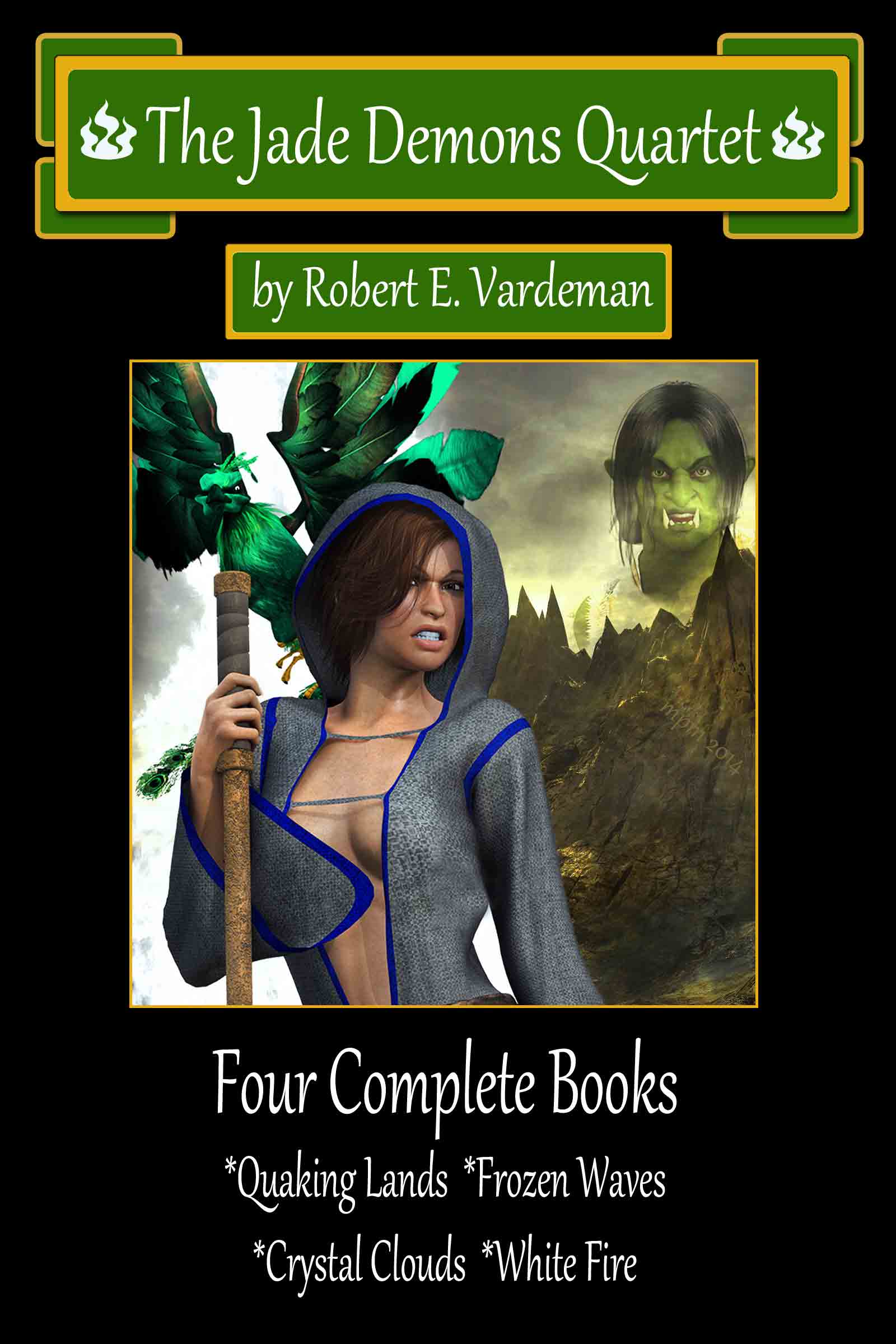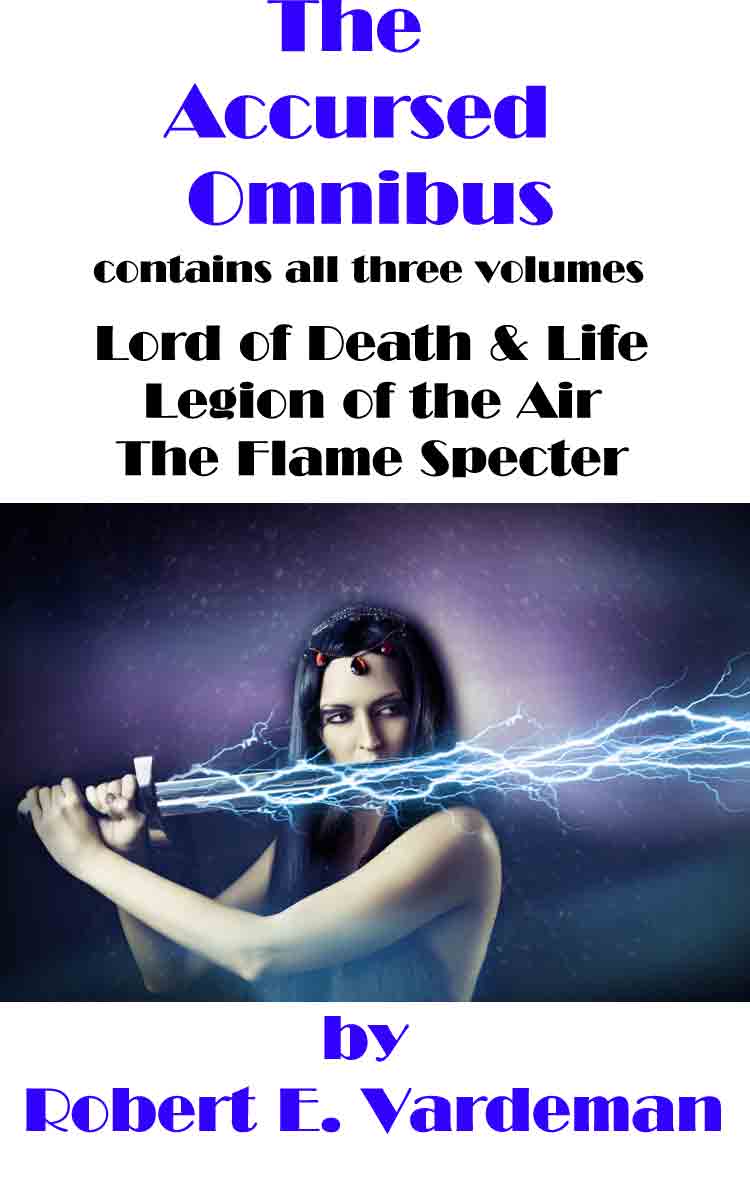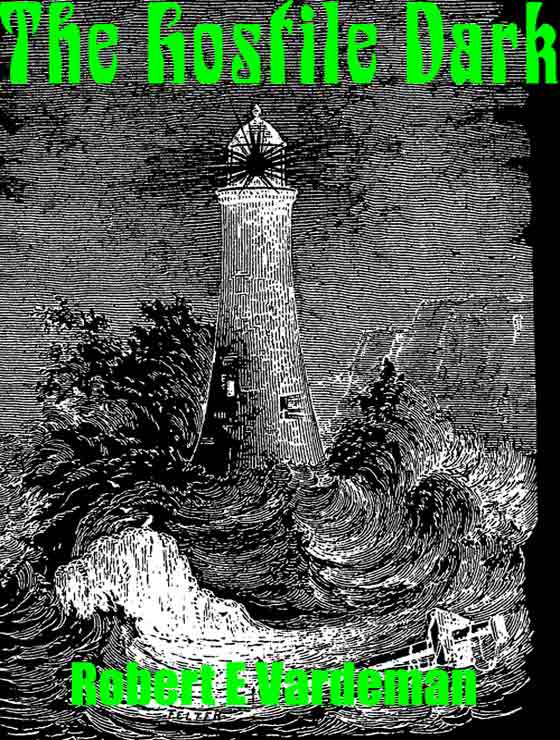 Click on the covers for more infomation
Welcome to the Cenotaph Road website,
Robert E. Vardeman proprietor
Some fantasy this week to wash away the trail dust of the last couple weeks. Two great deals in the omnibus volumes--complete story arcs all in one place for one price. And "The Hostile Dark" is a favorite fantasy short story of mine. It won't be available much longer. I am planning on pulling the short stories and rejiggering them a bit. When? RSN (Real Soon Now)
Last weekend was spent at the Lincoln County Cowboy Symposium. We had a good location to sell, but it was severely limited in size. If everyone had shown up (and had as many titles as Melody Groves and me) there wouldn't have been any space at all to even stand, much less display all our books. But many came by and bought (thanks!) and talked westerns (thanks) and my two talks on weird westerns were well received. I gave out a lot of free books to illustrate the subgenre. I wish I could have found copies of Dead Man's Spurs since it is my favorite of the weird western Slocum's I did, but copies were hidden away in the vastness of my garage.
The LCCS attendance seemed sparse to me this year. There were times when the nearest symposium goer was twenty yards off. But mercifully there was only one too loud, off-key band playing on Saturday afternoon. The rest of the time the musicians were subdued and good. I understand Belinda Gail really wowed the crowds with her performances. I'm not a C&W fan, but she has a great voice.
Finished the weird western for Axel Howerton's forthcoming anthology. Need to do some tinkering with it, change the title and tighten it up a mite, then off it goes. I contacted the editor on the diesel punk anthology and a yea/nay ought to be forthcoming (he said last week, but...editors). I rewrote and sent off the first of the Punished trilogy, Undead. The overall title and individual title still don't thrill me, but they are better than I had before. Weird western, obviously, since the protagonist has a curse put on him that turns him into a zombie (not the Romero type eating brains, but the mindless, insensate zombie of voodoo lore)
I'm getting ducks in a row for NaNoWriMo. Am thinking of another western, traditional, tentativey titled Trick Shot.
I will mention again that Fate of the Kinunir was nominated for a NM-Az Book Award. Will find out if I won in November.
Is there anyone out there familiar with Zen cart? Drop me a line. Really. Please.
Don't panic. There are plenty of electrons to go around. Jade Demons Quartet is up on both Smashwords and Kindle with a great cover by Mike McAfee.
Theatrical movies: Gone Girl a couple weeks back. Wow. Not a pleasant movie but what did Iexpect about a sociopath marrying a psychopath? The ending has a nasty little kicker in it to think about, just as Let the Right One In did. If Rosamund Pike doesn't get an Academy Award nomination, TANJ. But with the Oscars, there isn't. Still, she's finally found a role that doesn't require her to stand around and smile a lot while pretending to be evil. I looked for a movie to hit this week but nothing nudged the needle. Maybe Tom Wick but more likely I'll save my pennies and go for IMAX on Interstellar in three.
Follow me on Twitter It's the small things in life... Or at least the 140 character ones.
Blog banter. Great West Detective Agency.
Empires of Steam and Rust! See Sarah Bartsch's Unforeseen. A tour of Japan through the eyes of a woman samurai. Not to be missed. Check out her story in the current Daily Science Fiction.
My e-books on the catalog page. Great stuff. Really.
iPad viewing: The few episodes of Hinterland set in Wales and am almost done with the Jack Taylor episodes. Former were ok, latter still more heavy Irish drinking detective stories set in Galway.
iPad reading: Still working my way through To the Last Man. Am stocking up on books for the WFC trip. Have Cheri Priest's Maplecroft and a former student's first novel, A Bother of Bodies. AJ Capper. Looks good. Check it out.
Regular cable stuff: Gotham, my favorite of the new shows. Arrow is back and as good as ever. Not excited about Flash but watching it. Scorpions was awful, but nowhere near as bad as some of the others out there. All in all, a pathetic lineup. I can't wait for Hell on Wheels to get back in a couple weeks, especially since Face Off is close to a season finale.
Go here for the finest in fantasy, sword & sorcery fiction (and sf and mysteries and...) And in the for-free mode on my store, look in on a story from along the Cenotaph Road. White Fur.
Sample "The Cloud Train" here from the anthology 4 Lives.
Select from The Cenotaph Road Store!
A stroy from Fred Saberhagen's An Armory of Swords
Only $1.99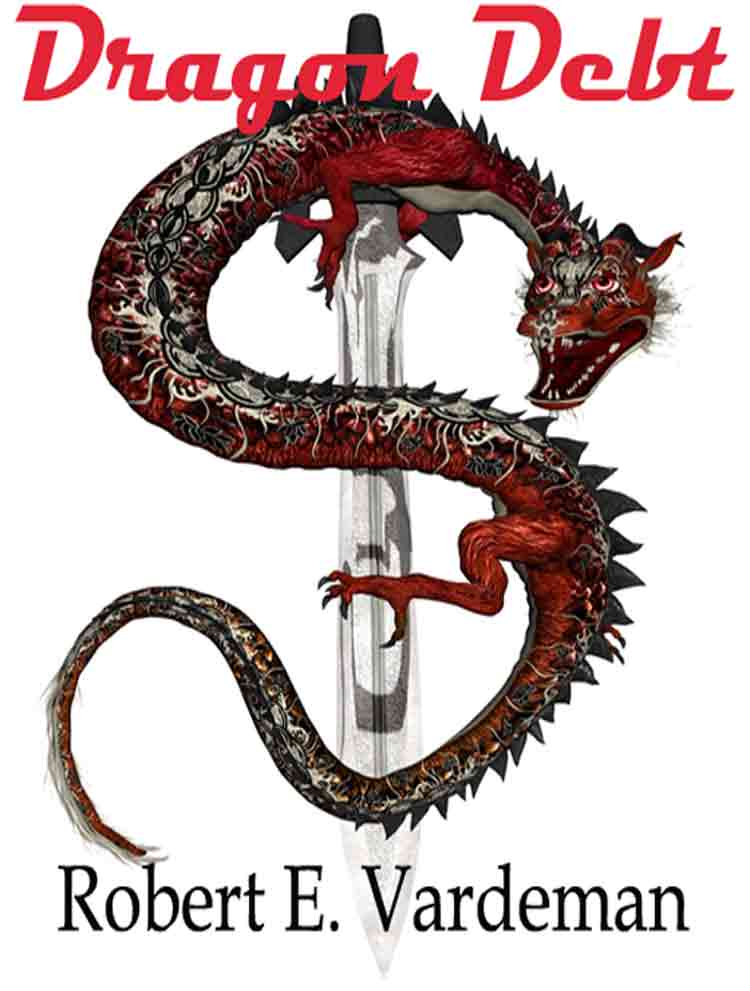 For my other online fiction, check out my CATALOG page or go straight to Amazon for both Kindle and print.
About the site. What follows is a glimpse at the science fiction and fantasy writing I've done, including the Cenotaph Road series, God of War™, Star Trek™ and BattleTech™/ MechWarrior™, Vor:The Maelstrom™, Crimson Skies™, Pathfinder™, Traveller™, what is current, and what might be forthcoming VIPub (Vertically Integrated Publishing) . Be sure to go to the Store link for free fiction and print and e-book publishing. Read ole Karl Lassiter's 2009 NM Book Award nominated novel, Drifter or the 2011 Scribe Award nominated God of War. Don't overlook the 2011 NM Book Award and WF Peacemaker nominee for best novel , Sonora Noose. Or the 2012 nominee for best anthology, Golden Reflections. Or the 2013 nominated China Jack. And now in 2014 the Fate of the Kinunir.
Enjoy!

---