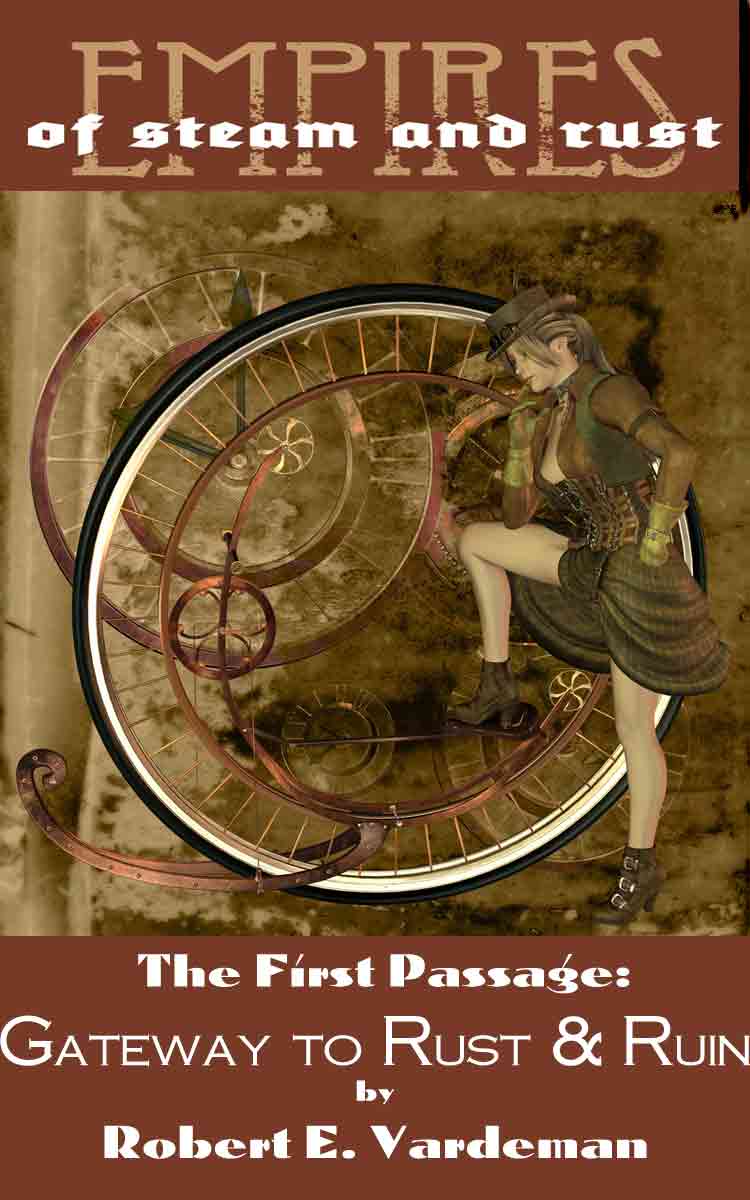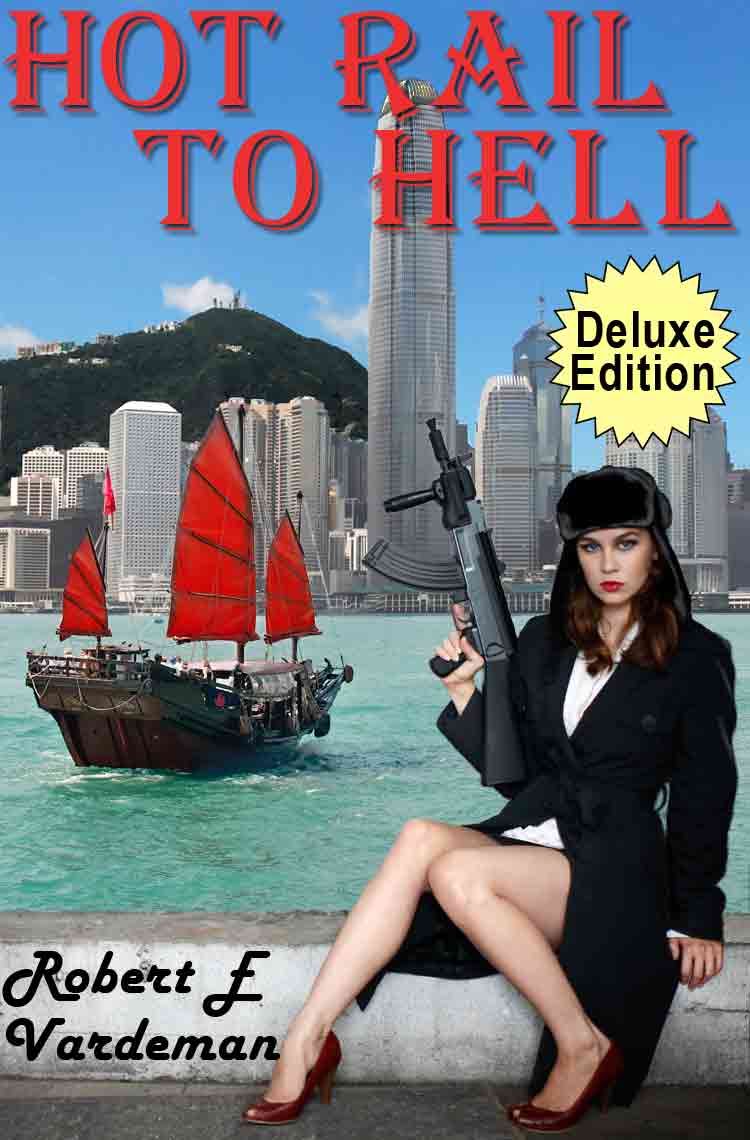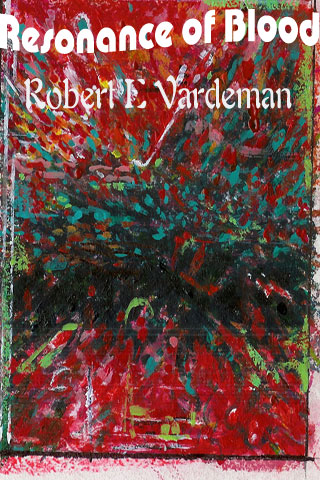 Click on the covers for more infomation
Welcome to the Cenotaph Road website,
Robert E. Vardeman proprietor
Different stuff this week. Steampunk! Spy thriller! Mystery!
Weird westerns! Be sure to check out the brand spanking new Tall Tales of the Weird West.
Work contionues apace on rewriting the space opera. And the short story "Mach 5" got picked up. I need to add some stuff at the end to make it more cinematic, but that will get done this week.
Other than this, the week has been routine. Mostly hay fever is hammering me, in spite of the Zyrtek. Coughing, dry mouth, feeling kinda weird at times from sinus congestion, it's been a year for pollen. Especially weird that there hasn't been any rain. Pollination goes berserk in such years.
Theatrical movies, none but I may go see Chappie tomorrow. Depends on how lazy I feel or how stuffed up my sinuses are.
Follow me on Twitter It's the small things in life... Or at least the 140 character ones.
Empires of Steam and Rust! Great news. ESR is featured as a scenario in a RPG from Lester Smith. Steve Sullivan did great work getting it ready to go. Check out his ESR novel Heart of Steam and Rust.
My e-books on the catalog page. Great stuff. Really.
iPad viewing:Working my way into season 4 on Justified. Liking it a lot, obviously, and am looking for other stuff when I finish this week. This season started with a guy smooshing himself on the pavement when his parachute didn't work--and he was carrying a lot of drugs and a diplomatic pouch.
iPad reading: Started in on some Tom Swift fan fiction by Scott Dickerson. Look up his stuff on Tom Swift Lives, if this intrigues you.
Regular cable stuff: The usual stuff. Getting to the finale on Face Off and not really caring. A pity. The show just didn't have the talent on it this year it had on prior years.
Go here for the finest in fantasy, sword & sorcery fiction (and sf and mysteries and...) And in the for-free mode on my store, look in on a story from along the Cenotaph Road. White Fur.
Sample "The Cloud Train" here from the anthology 4 Lives.
Select from The Cenotaph Road Store!
The first three Raemllyn books
at the special price
Only $9.99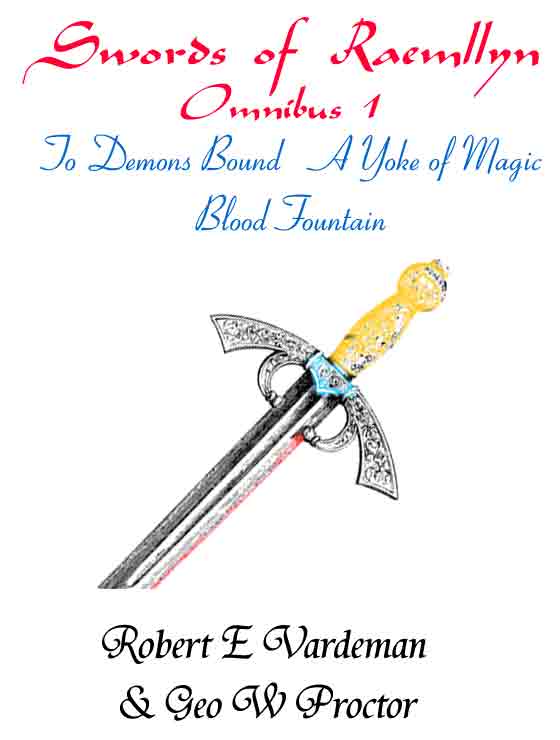 For my other online fiction, check out my CATALOG page or go straight to Amazon for both Kindle and print.
About the site. What follows is a glimpse at the science fiction and fantasy writing I've done, including the Cenotaph Road series, God of War™, Star Trek™ and BattleTech™/ MechWarrior™, Vor:The Maelstrom™, Crimson Skies™, Pathfinder™, Traveller™, what is current, and what might be forthcoming VIPub (Vertically Integrated Publishing) . Be sure to go to the Store link for free fiction and print and e-book publishing. Read ole Karl Lassiter's 2009 NM Book Award nominated novel, Drifter or the 2011 Scribe Award nominated God of War. Don't overlook the 2011 NM Book Award and WF Peacemaker nominee for best novel , Sonora Noose. Or the 2012 nominee for best anthology, Golden Reflections. Or the 2013 nominated China Jack. And 2014 the Fate of the Kinunir.
Enjoy!

---