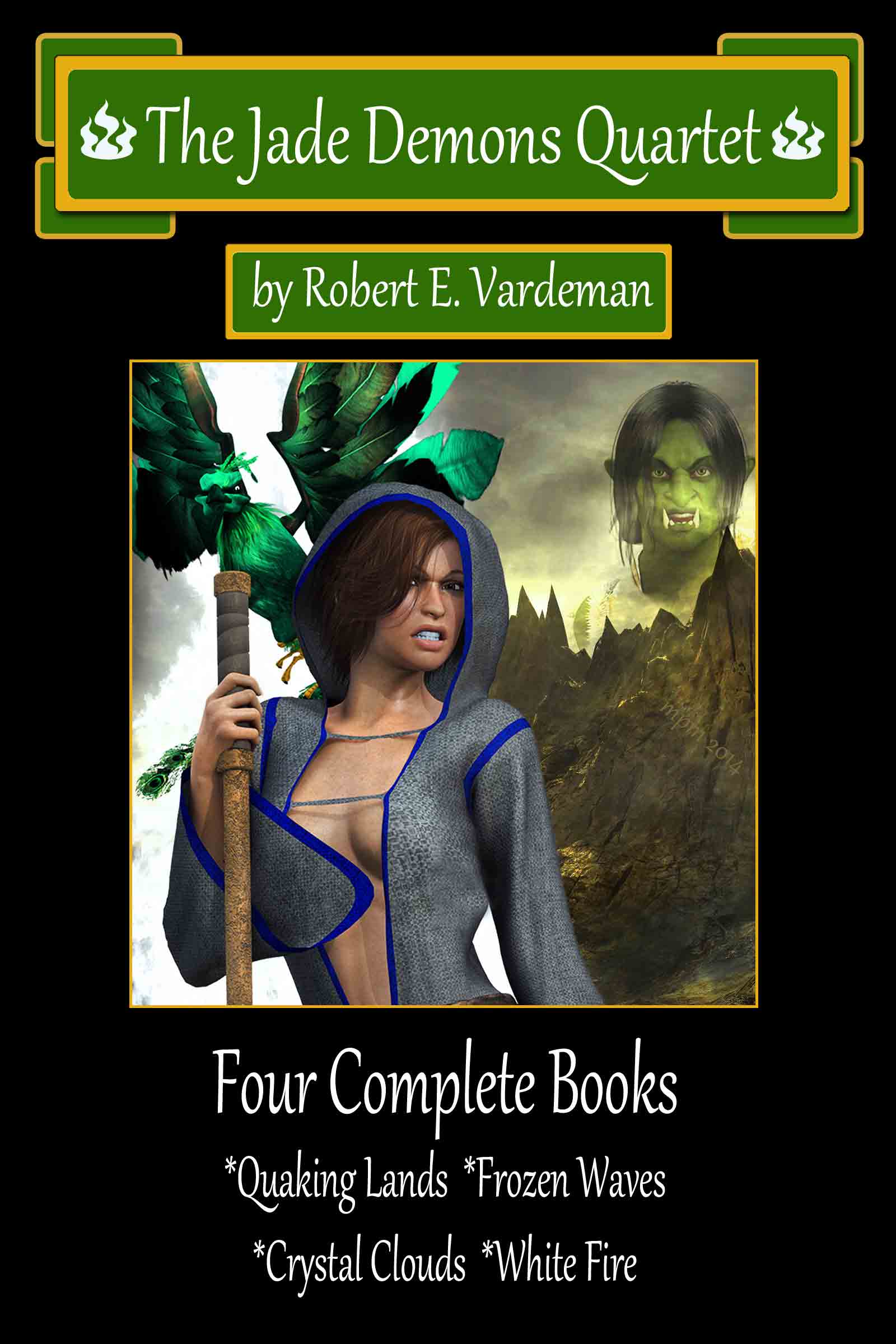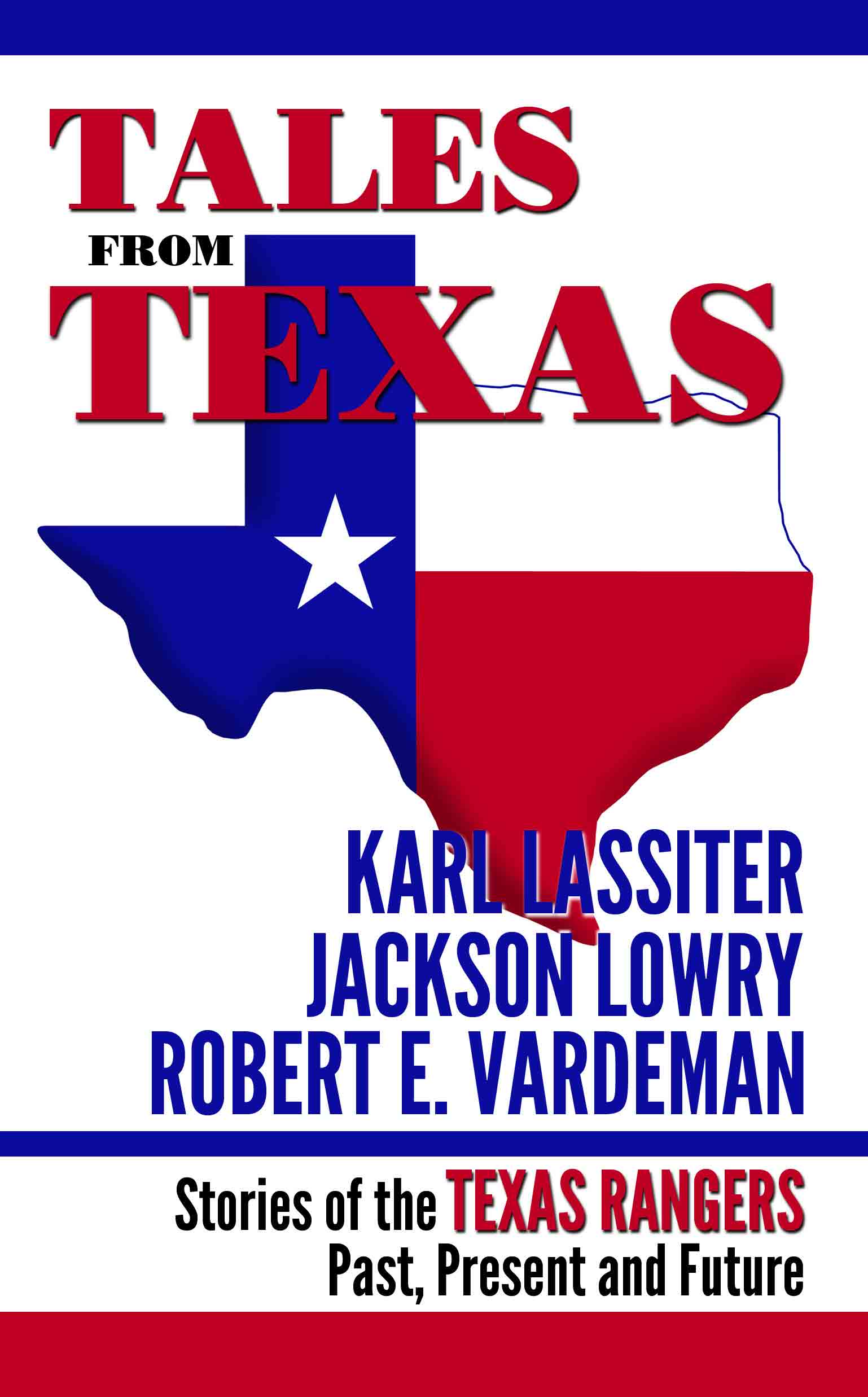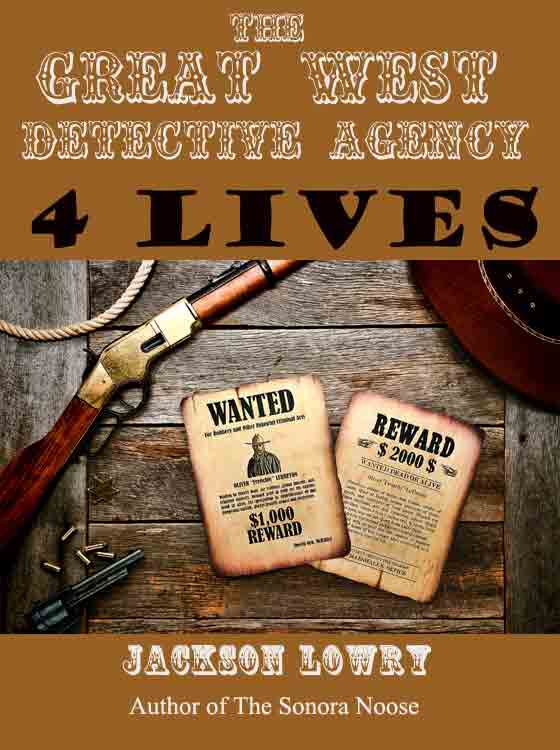 Click on the covers for more infomation
Welcome to the Cenotaph Road website,
Robert E. Vardeman proprietor
A spectrum of goodness this week. Epic fantasy at bargain rates, a 3-in-1 traditional western/thriller/sf collection, followed by a quartet of background stories from Great West Detective Agency sure to entertain.
"Mach 5" flew with my second telling. All done and launched now. And so begins the waiting to see if it is accepted. I can't quite call it hard sf, but it comes close. A tale of derring-do among the rocket racers on the Polar Plunge Race about 50 years hence. Next up is plotting and getting the synopsis done for a new book in the eXtraordinary Bureau series. (Burning Man Anomaly is next up for me to launch as an ebook.) Beyond that, am thinking about a steampunk ghost story for a new anthology, but time might crush me on that one. This is coming up on the busy time of the year (through the end of June).
Joan Saberhagen invited Emily Tippetts to speak at the Third Thursday ebooks group. Incredible amount of info passed along from a really knowledgeable author/marketer in the ebook field. She confirmed much of what I've seen and gave lots of new things to explore which will be showing up here and in my ebooks eventually. One bit of advice never changes: the best promo is to get out a new book. Series needsa 3-book initial release followed up by regular new titles before sales take off. This is quite an investment for most writers. I need to be up to it. So, look for that 2nd eXtraordinary Bureau book, as well as a new western series and new titles in the Conversant USA and Empires of Steam and Rust world. Short stories simply take too much time that can go into a novel--short novel or long, doesn't matter. It takes me 5x the time to do a short story as it does a chapter in a book.
There is a chance I might be teaching a course at ASU starting in January. Money appropriation to the school and more okays are needed, but it is in the works.
Coming up fast is fantasy football season. My major tech improvement this year must be figuring how to get onto the publisher's website for final copyedits using my iPad.
iWatch? I don't have an iPhone so that's a gizmo (love that old word) that will go unpurchased and, truth to tell, unwanted.
April 7 from Coffin Hop is the weird western anthology, Tall Tales of the Weird West. Great cover. Even better stories from Courtney Joyner, Scott Phillips, Rick Overwater, others including yhos writing as Jackson Lowry.
Theatrical movies, none and none upcoming since everything looks pretty meh to me.
Follow me on Twitter It's the small things in life... Or at least the 140 character ones.
Empires of Steam and Rust! Great news. ESR is featured as a scenario in a RPG from Lester Smith. Steve Sullivan did great work getting it ready to go. Check out his ESR novel Heart of Steam and Rust.
My e-books on the catalog page. Great stuff. Really.
iPad viewing: Working on Spartacus (Spartacus' main squeeze is Ra's Al Ghul's daughter on Arrow) And Archer amazes me. Why haven't the SJW come down heavy on this one? I'm glad they haven't. It is a scream. And apparently has Easter eggs galore dealing with Krieger.
iPad reading: Almost done with Joe Nassise's By the Blood of Heroes. Need more free time. Working thru a manual on using Chimp Mail.
Regular cable stuff: Face Off and Castle. I have to wonder if this is Castle's last year. Marriage usually kills such shows since the dynamic that drew viewers has changed (if it had started with them married, that's a different dynamic and reason for watching).
Go here for the finest in fantasy, sword & sorcery fiction (and sf and mysteries and...) And in the for-free mode on my store, look in on a story from along the Cenotaph Road. White Fur.
Sample "The Cloud Train" here from the anthology 4 Lives.
Select from The Cenotaph Road Store!
Choose who gets killed!
Only $2.99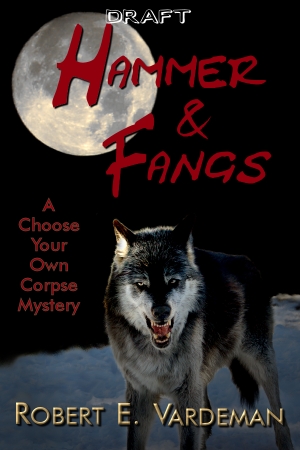 For my other online fiction, check out my CATALOG page or go straight to Amazon for both Kindle and print.
About the site. What follows is a glimpse at the science fiction and fantasy writing I've done, including the Cenotaph Road series, God of War™, Star Trek™ and BattleTech™/ MechWarrior™, Vor:The Maelstrom™, Crimson Skies™, Pathfinder™, Traveller™, what is current, and what might be forthcoming VIPub (Vertically Integrated Publishing) . Be sure to go to the Store link for free fiction and print and e-book publishing. Read ole Karl Lassiter's 2009 NM Book Award nominated novel, Drifter or the 2011 Scribe Award nominated God of War. Don't overlook the 2011 NM Book Award and WF Peacemaker nominee for best novel , Sonora Noose. Or the 2012 nominee for best anthology, Golden Reflections. Or the 2013 nominated China Jack. And 2014 the Fate of the Kinunir.
Enjoy!

---