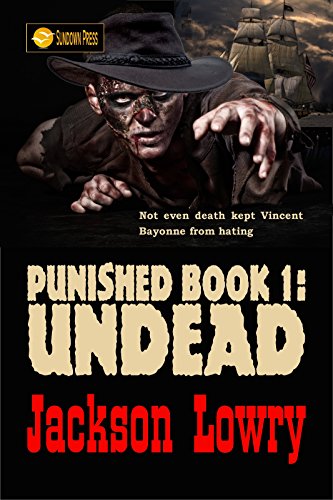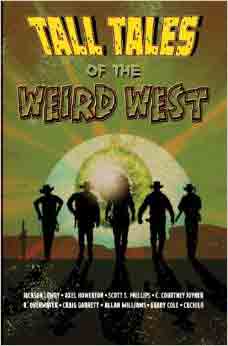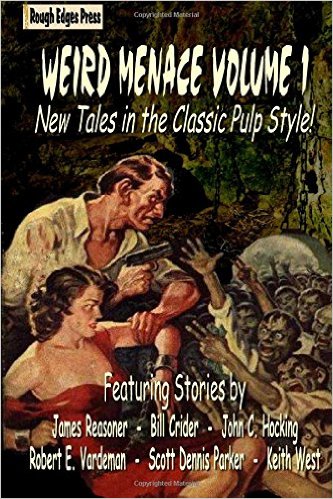 Click on the covers for more infomation
Welcome to the Cenotaph Road website,
Robert E. Vardeman proprietor
Let's get weird. The first of the Punished trilogy is ready for your weird western reading pleasure. Besides Undead there is another weird western in Talls of the Weird West (plus other authors' creepy stories!) and finishing it off is a bit of pulp goodness. Delectible. Read 'em allwhile you've got nothing better to do this summer.
The final two books in the Punished trilogy are done. I need to do another rewrite on both (Navajo Witches and the smashing conclusion Bayou Voodoo). I am waiting to hear, maybe tomorrow, about a weird western short story, "Into the Sixth World." This will satisfy my weird western-ness for a while. New projects abound.
One is unique (for me). A video collaboration on a steampunk story titled "Trail of the Emerald Unicorn" in what I hope will be a series of great stuff in the Pirates of the Golden West. More about this as it evolves.
Other work has been a ton of stuff for the football mags. Working on a small comic book project. What I am calling the Jupiter Project has increasingly voluminous notes. That and a sf novel are next up. Also editing work for ASU students in the Your Novel Year program.
I am waiting to sign the contracts to turn the Cenotaph Road series into ebooks. Also, Demon Crown and Masters of Space trilogies, along with the standalone sf novel, Ancient Heavens. And I do have to get the Lowry/Vardeman/Fox collaboration published ASAP. It's all ready to go. Just needs a cover and the time to prep it for ebookery.
Theatrical movies: Captain America: Civil War. I liked it much more than the dumb Superman vs Batman movie, although the plots were pretty identical. The endings on both were a problem, though, and for the same reason. They made no sense. X-Men: Apocalypse was ok. I am totally fed up with origins stories, though. If you can believe there are superheroes, believe they came from somewhere, okay? And Alice Thorugh the Looking Glass is one horrifically bad movie. Visually astounding. Plot? Eh, what plot? Story was muddled and dumb. And Johnny Depp was less the star than Sasha Baron Cohen, who was pretty darn good (but go see Hugo rather than this mess). I am rewarding myself for completing the drafts on the novels by going to see Now You See Me 2 tomorrow. I have low expectations. The first was great but they couldn't figure out an ending. I hope they do better since this is a fun idea.
Follow me on Twitter It's the small things in life... Or at least the 140 character ones.
Blog banter. New stuff after a long time about plotting a series arc.
While you are bouncing around, click the mailing list button above in the banner and learn stuff first hand. No regular schedule on the newsletter, so you won't be inundated. Really.
Empires of Steam and Rust! Check out David Lee Summer's ESR novel Revolution of Air and Rust.
My e-books on the catalog page. Great stuff.
iPad viewing: Peaky Blinders. Wow. Good stuff, if grim.
iPad reading: Working through the Travis McGee series, interspersed with Fafhrd and Grey Mouser for a change of pace. Studying them for characterization and world view in the former and writing style in the latter. The world has changed some since Leiber's day but I still enjoy them, no matter how the head hopping goes. He does expository lumps better than, well, anybody.
Regular cable stuff: Hell on Wheels but I am cancelling cable so will miss most of the finale season. I was astounded they killed off the Swede in the first ep, but it's not as if there aren't plenty more to deal with. Hey, Thomas Durant!
Go here for the finest in fantasy, sword & sorcery fiction (and sf and mysteries and...) And in the for-free mode on my store, look in on a story from along the Cenotaph Road. White Fur.
Sample "The Cloud Train" here from the anthology 4 Lives.
Select from The Cenotaph Road Store!
Free!
The Opal Egg, a story of Krek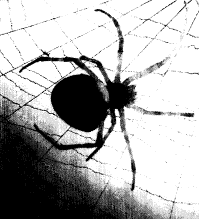 For my other online fiction, check out my CATALOG page or go straight to Amazon for both Kindle and print.
About the site. What follows is a glimpse at the science fiction and fantasy writing I've done, including the Cenotaph Road series, God of War™, Star Trek™ and BattleTech™/ MechWarrior™, Vor:The Maelstrom™, Crimson Skies™, Pathfinder™, Traveller™, what is current, and what might be forthcoming VIPub (Vertically Integrated Publishing) . Be sure to go to the Store link for free fiction and print and e-book publishing. Read ole Karl Lassiter's 2009 NM Book Award nominated novel, Drifter or the 2011 Scribe Award nominated God of War. Don't overlook the 2011 NM Book Award and WF Peacemaker nominee for best novel , Sonora Noose. Or the 2012 nominee for best anthology, Golden Reflections. Or the 2013 nominated China Jack. And 2014 the Fate of the Kinunir.
Enjoy!

---